User:Dl6kbg
From Ghpsdr3 SDR project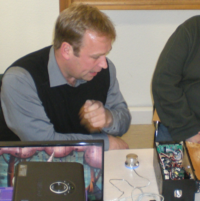 Name is Oliver and i was born in 1967 and i am a licensed ham since 1991. All of the RIG's here are homebrewed:

1 Softrock VHF RX Ensemble - 120-180 MHz
1 Softrock Ensemble RXTX 40-30-20-Meter
1 Softrock Ensemble RXTX 15-12-10-Meter


1 Mobo 4.3.4 with SDR-Widget and Filters for 80/40/30/20/15/10-Meters, HF-Projects LPF Board, POSWR Board (5 Watts on all Bands)

On the desk now:

1 UHFSDR which i will connect to a new SDR-Widget / Mobo

I am living in the City of Dresden and the Antenna System is poor. I have Short Verticals from 20-10 Meter and a Magnetic Loop for 40-Meter.
73 Oliver DL6KBG, JO61UB